Prototyping and Printing
// May 21st, 2016 // art, props
I finally broke down and bought a grown-up 3D printer. My Prusa i3 was fine, as far as it went, but my growing envy of the nice (and giant) prints of Lulzbot TAZ 5 owners's like James Bruton did me in. So I bought a Lulzbot TAZ 5 and added a FlexyDually dual extruder which allows me to print in normal materials from the primary head as well as flexible (such as Ninjaflex) and support materials from a second head. And I don't regret it one bit. This machine is heaven. It's like going from a motorcycle to a luxury car.
Speaking of printing, I've been designing/prototyping some props. More on all these later, but here's a peek at what's on deck at the moment.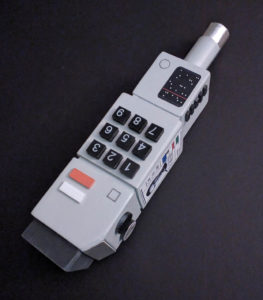 The first is a scratch-built Commlock (another Space: 1999 prop). I'm calling it a prototype in that the idea was to figure out how to build one well by building one at all. :) I have a screen and electronics for the next iteration using what I learned. This one, as will the next, was built from Plastruct sheets and tubing, some laser cut elements, 3D printed buttons with white-on-black label tape for the numbers.
Related, I just bought a Century Casting commlock off eBay, so I'll build that later as well. But the scratch-builts are my first priority.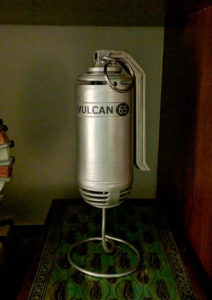 I've also been working on 3D modeling the Vulcan 65 grenade from the first Hellboy movie. I have a few additions to make on the internals and just finished making the top removable, but I've pretty happy with the overall design. I'll make a couple more and then I may make a cast of it so I can make some resin versions. I plan to add LEDs to one or two of the later printed ones.
The lettering is done using waterslide decals I designed and printed in Photoshop.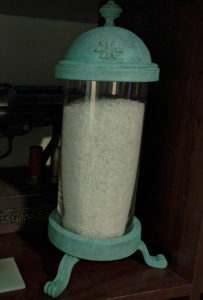 Yet another Hellboy prop I'm working on is Ilsa's salt cellar, the one containing the tears of a thousand angels (or martyrs in the earlier script). This one has been all about modeling and learning to make a patina'd surface look right. I solid-modeled the base, legs and dome. The glass is just a 7″ glass vase. It's not exactly the right size. It's 7″ high and about 3.2″ wide, should be more like 4″ wide, I think. I'm currently looking for a better one (or two… or twelve). Adam Savage actually owns the original and once put up a bunch of hi-rez photos on The RPF, but they're no longer there. So I'm working on the [missing] dome art using screen grabs from the movie. I have to sort out how to do the knurling on the edges since that's difficult to print.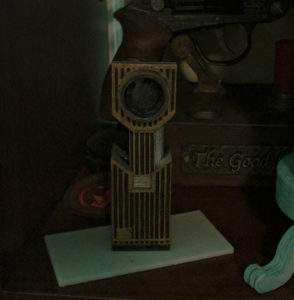 Speaking of Adam Savage, I'm also working on a replica of a prop he was originally involved in designing and building. In Bicentennial Man, there's a very neat little art deco eye examination device. It's all black and brass and it's terribly, terribly interesting. I started modeling it a while ago and printed a test to make sure it all fit together. It didn't. But I sanded it down and slapped some paint on it just to see how it looked. It looked like someone painted it quickly is what it looked like. hehe Anywho, I've added the splines on the sides and adjusted the center piece so the next one should fit together better. Once I've got it looking right I'll print another, add the LEDS and do a proper paint on it. Maybe I'll also send one to Adam… ;)
And then I'd like to build a HUD Motion Tracker from Aliens… but that's for another day.